Description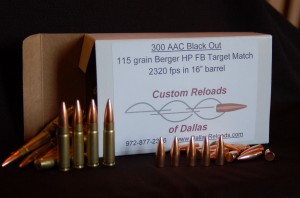 IN STOCK!!!! Our most accurate 300 Black Out round we make! Berger makes some of the best long range bullets, and they have a great 115 grain HP bullet. I have been shooting this in my Rem bolt gun for hunting season with great results. Priced per 100 rounds.
Brass is NEW Norma 300 Black Out head stamped brass, primers are CCI #450, which are magnum primers with thick primer cups. Powder is either Hodgdon or Alliant powder, depending on which bullet is loaded.
2320 fps in 16″
If you need more than 500 rounds, please call for volume pricing!
115 grain Berger HP (hollow point), FB (flat base) Match Target bullet.
Most accurate AR-15 round!
100 rounds per order